R. BOUWMEESTER & ASSOCIATES
Sun & Shadow Position Specialists
with Modeling Applications in
Collision and Crime Scene Reconstruction,
Urban Development, Site Planning and Building Design

---



About Us
Services
What We Do
Projects
Clients
---
Torontohenge - October 2014
---
On October 25, 2014, the sun sets in line with Toronto's major east-west streets offering photographers a great opportunity to capture the sun as it perches on the horizon between the canyon walls of buildings on either side of the street. Sunset is at 6:18 pm EDT.
Although Torontohenge technically falls on October 25th, great photos can be taken in the days leading up to the 25th as the sun hovers directly above the street prior to sunset.
The photo below is a rendering showing the time and position of the sun (approx.) when it is in line with east-west streets between October 15th and 25th. As you can see, there are lots of opportunities for great shots shortly after 6 pm. (Click photo for larger view.)
Share your pictures on Twitter by sending them to @sunposition using the hashtag #Torontohenge. You may also e-mail them directly to us at rba@sunposition.com.
Future dates and times can be found on our blog site at https://sunposition-ralphb.blogspot.com/. Search for Torontohenge.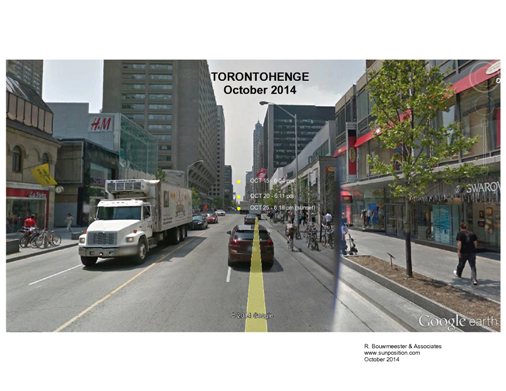 ---
Ralph Bouwmeester, P. Eng.
R. Bouwmeester & Associates
Barrie, Ontario Canada
Phone: 1-705-726-3392

(Please call or email for complete address details)
---
All the information contained within these World Wide Web Pages is
Copyright © 2014, R. Bouwmeester & Associates.
All Rights Reserved.
All Trademarks mentioned herein belong to their respective owners.
---