R. BOUWMEESTER & ASSOCIATES
Sun & Shadow Position Specialists
with Modeling Applications in
Collision and Crime Scene Reconstruction,
Urban Development, Site Planning and Building Design

---



About Us
Services
What We Do
Projects
Clients
---
Shadow Impact Assessment
Proposed Residential Highrise
---
Objective:
To determine the shadow impacts on adjacent properties due to a proposed highrise condominium.
Background:
The proposed highrise is shown below in heavy outline. The adjacent streets, properties and townhouse dwellings are drawn with lighter lines. The shadow patterns for each of 9:00 am, 12 noon and 4:00 pm EST are shown by the heavy dashed lines..
Results:
The shadow impacts were determined for March 21, June 21, September 21 and December 21. The sample below represents March 21st.
---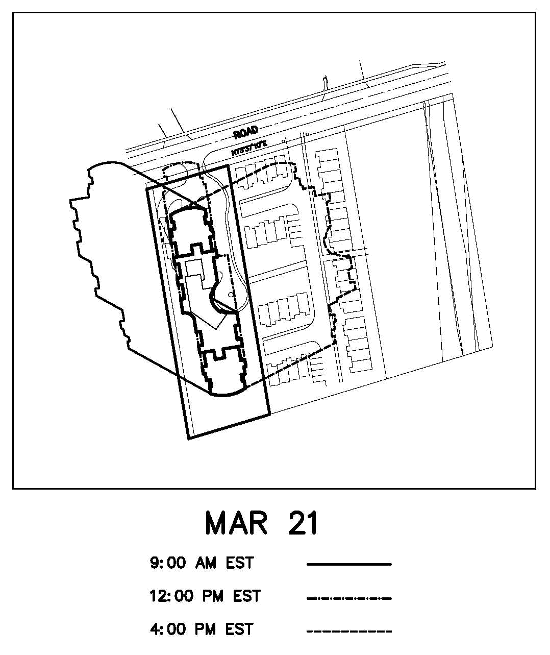 A rendered sample of a high density downtown area can be found here
---
Ralph Bouwmeester, P. Eng.
R. Bouwmeester & Associates
Barrie, Ontario Canada
Phone: 1-705-726-3392

(Please call or email for complete address details)
---
All the information contained within these World Wide Web Pages is
Copyright © 1999, R. Bouwmeester & Associates.
All Rights Reserved.
All Trademarks mentioned herein belong to their respective owners.
---