R. BOUWMEESTER & ASSOCIATES
Sun & Shadow Position Specialists
with Modeling Applications in
Collision and Crime Scene Reconstruction,
Urban Development, Site Planning and Building Design

---



About Us
Services
What We Do
Projects
Clients
---
Our Places in the Sun: The shadow factor
Shedding light on the darkness cast by towers
is a science with many angles

Stephen Weir
Special to The Star
---
Article re-printed from "The Toronto Star" February 2, 2008
"The Toronto Star" is hereby acknowledged for the content.
© Copyright Toronto Star 1996-2008
---
The operators of a daycare centre pray that a proposed condominium will cast a shadow over their playground so their young charges won't overheat in the glaring noonday sun. Just down the street, homeowners bemoan the fact that if the building goes up, their daily quota of sunshine will plummet.
Beyond a shadow of a doubt, as more developers are issued permits to build tall condos, large sections of Toronto will be bathed in moving bands of darkness. Property owners who will be left in the dark for part of the day are raising concerns about building heights based on what they see as their right to a place in the sun.
For their part, developers are using computer programs and shadow-reducing designs to lower the light-blocking footprint their buildings will cast.

"The most important thing for me is to spend a Sunday afternoon at home," says Greg West, a film producer. "There is nothing nicer than coming inside and enjoying the sunlight as it shines through the window. We get a lovely sun in our house on McGill St. It is only about three hours a day and now developers are going to be taking away an hour of light from us."
West lives in the McGill-Granby Village, just south of Maple Leaf Gardens). It's an area that was granted "special identity" status by the city 30 years ago because it's an oasis of small, Victorian-style, single and semi-detached homes in a neighbourhood of towering concrete and glass.
His residents' association, like many other groups in the city, is raising concerns about shadows when fighting to limit the height of proposed new condos. The McGill Granby Village Ratepayers' Association recently fought unsuccessfully to limit the size of the Aura, a 75-storey tower at Yonge and Gerrard Sts that Canderel Stoneridge Equity is preparing to build.
"Our residents' association was formed to deal with crime, infill development and all the other problems you have with living in the city core," West says. "Now, the issue is shadowing and we are up against a huge development machine. For a large part of the day we won't see the sun and neither will the students using the Ryerson University park. This is bad business. We don't have slick Bay Street lawyers to win this one for us."
In 2006, the Aura was to be 50-storeys, the tallest of three towers on a site adjacent to the old Eaton College St. complex. The city opposed Aura, in part because it would block sunlight from streets, cause shadows to fall on the village and Ryerson University, and create wind problems at ground level.
The project went to the Ontario Municipal Board and after a series of rulings, the developer got the go-ahead to revamp the project upward and inward. The Aura jumped from 50 to 75 storeys but became a thin point tower.
"It all depends on the shape," says Ralph Bouwmeester, a sun and shadow position specialist. "The majority of the new tall buildings are point towers (needle-shaped). They tend to cast thin shadows, and for a very short time. Depending on the season, a 70- to 80-storey point tower will cast a shadow on any given address for a very limited time.
"Now, if you are speaking of slab-type condominiums (monolithic structures) aligned in a north-south direction, this style of building has a significant shadow effect to the east and west," Bouwmeester says. "When the slab building – like the Delta Chelsea on Gerrard – is aligned east-west, it casts, in a big way, to the north."
Bouwmeester has developed computer modelling software that, among other things, shows at any given time in a year the size and shape of the shadows that will be thrown by buildings. He operates a Barrie-based civil engineering firm that provides shadow modelling to builders and ratepayers alike.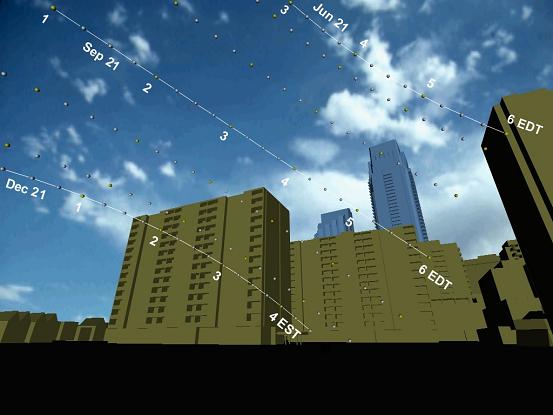 "I think ratepayer groups have become aware and educated," he says. "People know they can't be protected forever but they want builders to prove that what they say about shadows is accurate."
And Bouwmeester knows of a daycare in Toronto that would welcome the shade a proposed condo would bring, though he says he can't yet divulge the location.
Shadow issues are not unique to Toronto. But in urban centres closer to the equator, property owners are less inclined to fight a project that might block the damaging rays of the sun. Direct summer sunlight on a building raises temperatures, accelerates the aging process of roofing material and blisters paint.
A study by Rogers William University in Bristol, R.I., says higher urban densities in Egypt, Gaza and other desert countries "create building shadows and shade, and more comfortable spaces for people."
In Arizona, shadow studies are run to find the optimum building size and shape to block out the sun.
"For the most part, people who live and work in the downtown area know that there are always going to be new buildings," says Mark Mandelbaum, chair of Lanterra Developments. "Problems occur when the city decides to increase the density. Buildings get taller and suddenly, the skyline has changed.
"There are shadows and then there are shadows," he says. "Toronto's Annex is a very sophisticated place; there are big trees that cast shadows over the neighbourhood, and that is seen as a good thing. Buildings, well, that can be different."
Lanterra is building One Bedford, a 32-storey luxury condominium at the edge of the Annex, across the street from Varsity Stadium. Architect Bruce Kuwabara has designed a building that is, as much as a skyscraper can be, neighbourhood-friendly.
The bulk of the building will be on the first eight floors. Fronting on Bloor St., the condo's podium will include both high-end shops and tree-filled gardens. The residential units will rise out of the centre of the structure, away from surrounding buildings. The building will be terraced so the top floors will be in a thin tower of exclusive suites.
"We are very sensitive to the concerns of the community," says Lino Pellicano, Monarch Construction's director of land development for highrises. "We have designed a building that has terraces and layers to minimize the effects of the shadow. At times during the year, the building may cast a long shadow, but it will pass by very quickly."
"Once we determine the design on a new condo site, we will actually contract a shadow firm," he says. "They create a report based on the position of the sun at four different times of the year.
"We look at the shadow impact at the time of the equinoxes (which this year fall on March 20 and Sept. 22) and the two solstices (June 20, Dec. 21). In the summer, you will always get the sun and in the winter, there can be long shadows. We do shift the building to avoid shadows in certain situation."
For Toronto Councillor Michael Walker, changing the angle of a highrise condo to reduce the shadowing effect does little to attack the real problem new buildings are causing in the city – density.
"The whole exercise about shadowing isn't getting to the root of the problem," he says. "You make a building tall and thin, so what? Once a builder is able to make the shadow thinner, he suddenly has a free reign to build upwards.
"The Minto Tower fight (two 50-plus storey condos that have been built in Walker's St. Paul's riding) was a benchmark battle about shadowing over a residential neighbourhood. The ratepayers were concerned about how they were going to lose sunlight in a traditional family neighbourhood. For Minto though, it was all about density – the higher they build the more money they make.
"We are being taken for a royal ride," Walker says. "All we seem to want to do is negotiate with the developer who minimizes the shadow on impact, but gets a taller building. My eyes glaze over and my heart races. Point towers have come to Eglinton and it is only a matter of time till we see that at Yonge and Lawrence, and beyond."
"I think that the time is coming where Toronto, the city council, its planning staff and the building industry have to establish the degree of impact that shadows are allowed to cause," Bouwmeester says. "Should condo dwellers now living in a 20-storey building get protection from new, taller buildings at the same level as people living in homes with backyards, gardens and barbecues? Are we going to protect one taxpayer more than others?"
An irony about shadowing is that while people who may lose sunshine complain, the people buying the condos are snapping up the suites that get the least sunlight.
"West-facing suites tend to get a lot of sun," Pellicano says. "East is much more desirable and sell first, often at a premium."
---
Ralph Bouwmeester, P. Eng.
R. Bouwmeester & Associates
Barrie, Ontario Canada
Phone: 1-705-726-3392

(Please call or email for complete address details)
---
All the information contained within these World Wide Web Pages is
Copyright © 2008, R. Bouwmeester & Associates.
All Rights Reserved.
All Trademarks mentioned herein belong to their respective owners.
---