R. BOUWMEESTER & ASSOCIATES
Sun & Shadow Position Specialists
with Modeling Applications in
Collision and Crime Scene Reconstruction,
Urban Development, Site Planning and Building Design

---



About Us
Services
What We Do
Projects
Clients
---
Cresskill crossing guard struck by Weehawken principal's car,
sun glare a possible factor, police say

BY DEENA YELLIN AND REBECCA D. O'BRIEN
STAFF WRITERS
NorthJersey.com
February 10, 2012
---
Article re-printed from the "The Record" February 10, 2012.
"The Record" (www.northjersey.com) is hereby acknowledged for the content.
© 2012 All Rights Reserved.

North Jersey Media Group



---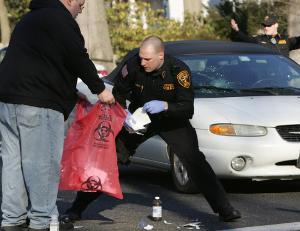 TARIQ ZEHAWI / STAFF PHOTOGRAPHER

Cresskill Police investigate an accident scene after a crossing guard was struck by a vehicle
traveling eastbound on Grant Ave. at Brookside Ave. Friday morning.
The crossing guard was taken to the hospital with injuries.

---
CRESSKILL — Sun glare could have been a factor in an accident where a crossing guard was struck by a car — driven by a former councilman and current principal of Weehawken High School — while at his post at Grant and Brookside avenues Friday morning, authorities said.
Peter Olivieri was driving his convertible Chrysler Sebring east on Grant Avenue when he hit the crossing guard, Ned Visich, 74, of Dumont.

It is unlikely that Olivieri, who remained at the scene of the accident, will be charged, although the investigation is continuing, Police Chief Ed Wrixon said.

Olivieri lives nearby and drives a similar route every day, several parents and local residents said. Visich was wearing a bright yellow reflective jacket, authorities said. A call to Weehawken High School offices revealed that Olivieri did report to work on Friday. He did not return calls seeking comment.

Visich was conscious at the scene but had suffered head trauma and other injuries and was transported to Hackensack University Medical Center, Wrixon said. His family asked Friday that medical information be kept private.

"He should be ok," Wrixon said. "He's a tough old guy and that will be on his side."

For the past four years, Visich has been joined at his post by fellow guard Ginger Johnson. But Friday, Johnson was stationed down the road, at Union and Piermont, because a crossing guard there had been in a car accident on Monday.

"Look, a lot of people get the impression that we are feeble-minded, the crossing guards," Johnson said Friday afternoon, as she commanded a herd of students across the treacherous intersection. "Let me tell you something about Ned — he walks the Tenafly track every day."

A Cresskill police officer was stationed at Grant and Brookside when school got out Friday afternoon.

The accident occurred at about 8:15 a.m., less than two blocks from the Edward H. Bryan School.

"The driver didn't see him evidently," said Wrixon. "There's no sign that there was excessive speed involved. At that time there's a bad sun glare."

There are few statistics on how often sun glare factors into car accidents, but it can cause a blinding effect for drivers.

"This is a big safety issue and people need to be much more aware of it," said Ralph Bouwmeester, a civil engineer who founded a Canadian company specializing in how the sun relates to development and traffic accidents. "Sun glare accounts for many more accidents than we realize."

He also cautioned that pedestrians should be just as cautious as drivers.

"If you are about to cross a street and the sun is behind you and traffic is coming towards you, even if you can see just fine, the traffic coming towards you might not."

Little Ferry Police Chief Ralph Verdi said he recalls a similar incident in 2010 in which sun glare played a role in a crossing guard being hit by a van as he was helping a man across a street. Joseph Dotterman, 73, was struck when the van's driver was apparently blinded by the sun, made a left turn and hit Dotterman, said Verdi.

"It wasn't reckless,:" Verdi said. "Sometimes, the sun hits you in the eyes in a certain angle and unfortunate things happen."

The corner where Visich was hit is difficult to navigate — Grant Avenue slopes downhill toward Brookside, and the right turn toward the school is partly obscured by a line of hedges.

Like many intersections in town, it is generally busy at that time of the morning, Wrixon said.

"This whole town gets crazy in the mornings," he said. "To get from one town to the other, you can only use two roads. It's like an hourglass that backs up a lot and bottlenecks."

Lucy Gentile said she and her son Max, age 10, saw Visich lying on the ground when they walked to the Bryan school Friday morning.

"My son was very upset," Gentile said Friday afternoon, standing near the school with a group of other mothers, many of whom expressed concern for Visich.

"He is just such an attentive, with-it guy," Gentile said.

Kevin McGrath, the interim principal of Bryan School where Visich was based, called him "one of our best crossing guards."

"I see him in the morning, he always waves," he said. "Everybody knows him."

Dexter Knospe, a fellow crossing guard, said Visich had been at the school for six years. Choking back tears, even as he managed afternoon school traffic, Knospe described Visich as a dear colleague, adored by children and parents alike.

"He is a wonderful human being, and a very good friend," Knospe said. "Never harmed anybody. He's always there to help."
---
Ralph Bouwmeester, P. Eng.
R. Bouwmeester & Associates
Barrie, Ontario Canada
Phone: 1-705-726-3392

(Please call or email for complete address details)
---
All the information contained within these World Wide Web Pages is
Copyright © 2012, R. Bouwmeester & Associates.
All Rights Reserved.
All Trademarks mentioned herein belong to their respective owners.
---