R. BOUWMEESTER & ASSOCIATES
Sun & Shadow Position Specialists
with Modeling Applications in
Collision and Crime Scene Reconstruction,
Urban Development, Site Planning and Building Design

---



About Us
Services
What We Do
Projects
Clients
---
NASCAR Track Sun Angles

Phoenix International Raceway
November 9, 2014
---
NASCAR Sprint Cup driver and six-time champion, Jimmie Johnson, told me via Twitter on October 25, 2014, that "The late stages at PIR are tough with the sun in your eyes."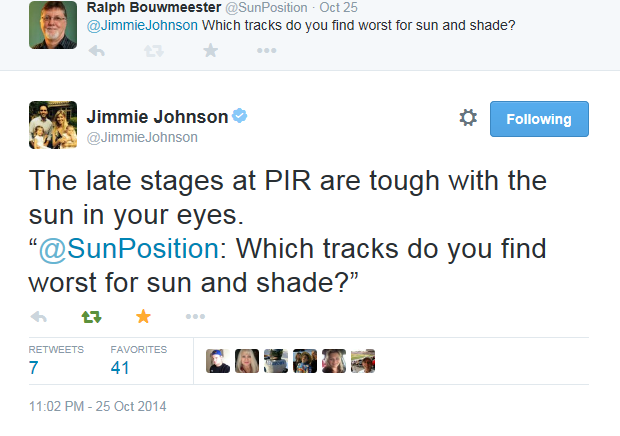 Of course, I wanted to see how the sun angles look at Phoenix International Raceway (PIR) so I prepared the diagram below to illustrate the case. The next race scheduled at PIR is on Sunday, November 9, 2014, beginning at 1:00 pm MST (3:00 ET) - this is the last race in the Eliminator Round and the last race before the Championship Race at Homestead-Miami on November 16th.
The diagram below shows the sun angles at PIR for the November 9th race.
Looks like Jimmie was absolutely right... was there ever any doubt??
(Ed. note: PIR name was changed to ISM Raceway in 2018)
Click image to enlarge.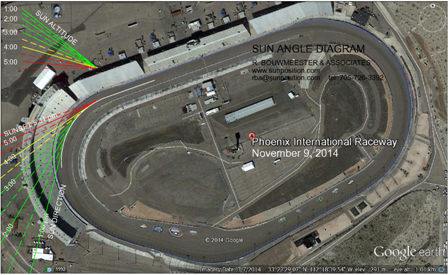 ---
Ralph Bouwmeester, P. Eng.
R. Bouwmeester & Associates
Barrie, Ontario Canada
Phone: 1-705-726-3392

(Please call or email for complete address details)
---
All the information contained within these World Wide Web Pages is
Copyright © 2014-2018, R. Bouwmeester & Associates.
All Rights Reserved.
All Trademarks mentioned herein belong to their respective owners.
---